Give Your Family The Best
The WIC program gives you a monthly food package to buy foods that help you get the nutrients you and your kids need. WIC foods are mostly low in fat, high in fiber, and rich in vitamins and minerals. 
Fruits and Vegetables: More is better
Fruits and vegetables are packed full of vitamins, minerals, fiber, and other nutrients that promote good health.

 Why fruits and vegetables?
Eating fruits and vegetables can help your family:
Achieve and maintain a healthy weight.
Reduce the risk of heart disease, diabetes and some types of cancer.
Build immunity to fight off the common cold and other illnesses.
Fruits and vegetables in the WIC food package
Each WIC family member receives cash value benefits to purchase fresh or frozen fruits and vegetables. Here are a few ways to help your family eat more fruits and vegetables.
Grab and go. Keep cut-up fruits and vegetables in the fridge to have as a snack or carry on the go.
Drink them. Whip up a fruit smoothie for a tasty breakfast or dessert.
Dip them. Try yogurt with fruit or low-fat dips with vegetables.
Whole Grains: Make half your grains whole grains
Foods made from wheat, rice, oats or corn are considered grain products. Refined grains, like white bread and white rice, go through processing that removes important nutrients like fiber, iron, and many B vitamins.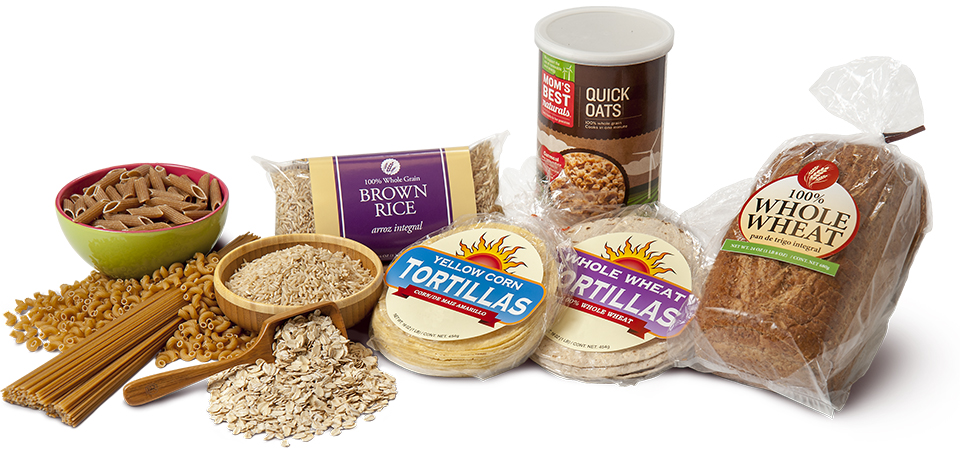 Why whole grains?
"Whole grains" are healthier than refined grains because they have the entire grain kernel, and keep all the healthy nutrients like fiber. Eating whole grains can help your family:
Achieve and maintain a healthy weight.
Lower your risk of heart disease, diabetes, and certain cancers.
Reduce constipation and improve digestive health.
Whole grains in the WIC food package
Most participants get a whole grain option in a 1 pound package (16 ounce). Your options include:
100% whole-wheat bread
100% whole-wheat pasta
Brown rice
Oatmeal
Corn or whole-wheat tortillas
Dairy Products: Strong bodies need strong bones
Milk products are a great source of calcium, vitamin D and other nutrients needed for strong bones and overall health.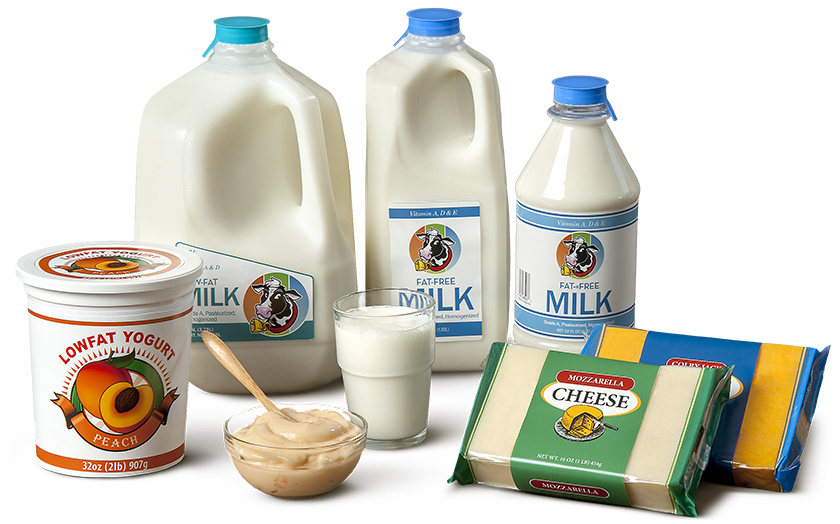 Why low-fat dairy?
Low-fat (1%), and fat-free milk provide the same nutrients found in whole and 2% milk, but with less fat. Consuming lower-fat dairy products can help:
Lower cholesterol.
Lower risk of heart disease and stroke.
Reduce weight or stay at a healthy weight.
Dairy foods in the WIC food package
Most WIC food packages include low-fat milk, yogurt and cheese. Here are some tips for getting a little healthy dairy in your day:
Add fat-free or low-fat milk instead of water to oatmeal and hot cereals.
Spoon yogurt on top of cut-up fruit for a quick dessert.
Top casseroles, soups, stews, or vegetables with shredded reduced-fat or low-fat cheese.
Protein: Choose a variety
Proteins such as lean meat, beans, eggs, and fish help your family grow and maintain healthy tissues. Many of these foods also have iron which helps carry oxygen in the blood and prevent anemia.

Why protein?
Getting enough protein in the diet is important to help you and your children stay energized. Beans, peas, and peanut butter are good sources of plant protein and iron. Fish such as salmon and tuna contain healthy oils called omega-3 fatty acids, which are important for heart health.
Protein in the WIC food package
Choose a variety of proteins. You can use them as your main dish, a side, or a snack. Your WIC food package could include protein foods like:
Eggs
Beans, split peas or lentils
Peanut butter
Canned fish (for fully breastfeeding mothers only)
Dairy foods and tofu