What can you do with myWIC?
Check out our myWIC features. With myWIC, you can experience all these and more.
Manage your appointments
Schedule, change and view your appointments.
Current and future benefits
View your monthly benefits and track your purchases.
Tailored shopping experience
Use our shopping guide and scanner to get the most out of your benefits.
Guided certifications
Use a step by step process for uploading documents before your WIC appointment.
Push notifications
Stay informed with reminders and updates sent right to you.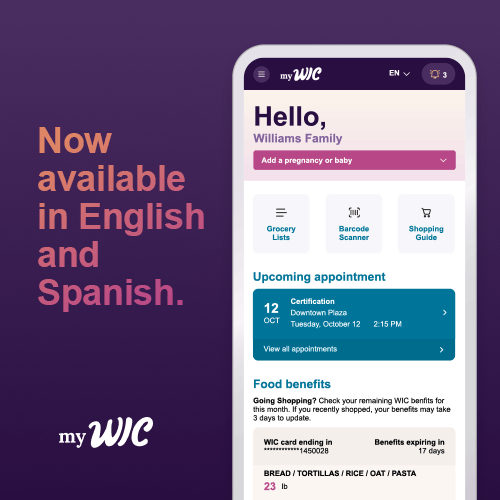 Already a WIC Client?
Download the app.
Link your existing WIC card.

Click the "link card" button at the top. 
You will need your WIC Card and the parent or guardian's date of birth or last name used in the WIC system.
Scan your WIC Card or enter your 19-digit WIC Card number

Confirm your details and continue.
Create a username and password.
New to

WIC

?
Ask your clinic to send you an invite to create a myWIC account.