MAKE MEALTIME FAMILY TIME
Family meals give you a chance to model good behaviors and help children learn to eat the foods you eat. It takes a little work to bring everyone together for meals. But it's worth it — the whole family eats better.
Start early.
Start eating meals together as a family when your child is young. Your child will grow used to this family time and build lasting memories.
Plan it.
Try to have family meals most days of the week. Plan ahead and write it on your calendar.
Prepare ahead.
If it's too hard to cook during the week, cook the weekend before. You can freeze and reheat food or use a slow-cooker.
Make happy memories that will last.
Don't argue, and make sure the TV stays off and phones are put away.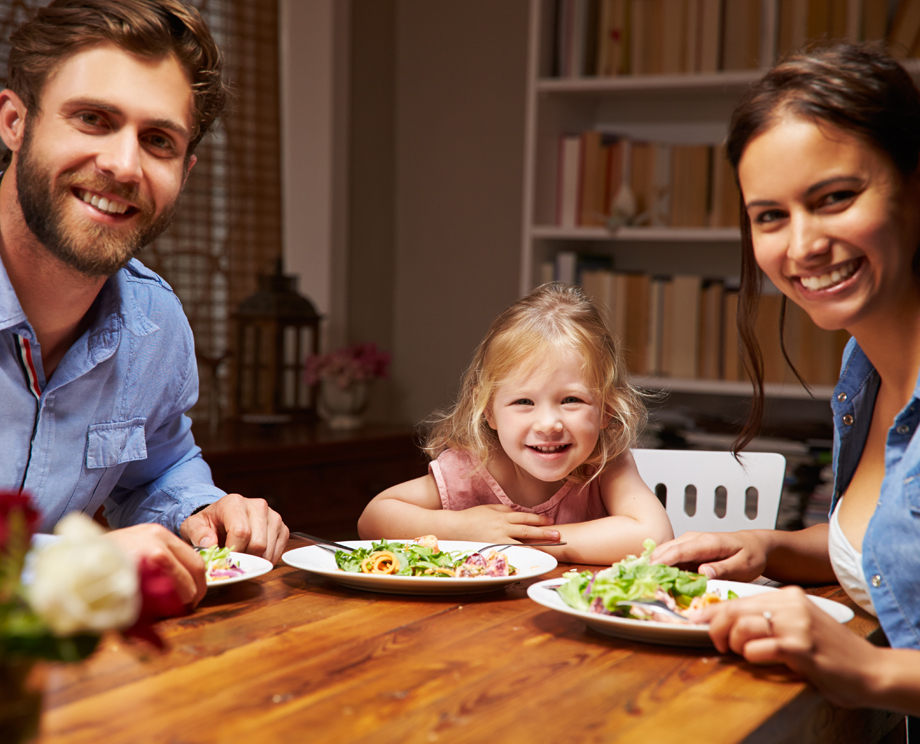 What is the Best Way to Feed My Child?
Start with yourself.
Set a good example by eating a variety of foods.
Eat with your child.
Serve the foods you eat and resist making a different meal for your child. It helps to include at least one thing your child will eat, such as a whole-grain roll or a certain fruit or vegetable.
Feed with no pressure.
Offer foods without demanding, rewarding, or bribing. Try not to say things like, "clean your plate," "eat your vegetables," and "no dessert until you eat your vegetables." On the other hand, it also means not praising your child if she does clean her plate or tries a new food. 
Let your child do her eating (or not eating).
Let your child know that it's okay to eat only as much as she wants.
Don't Worry, It's Normal If:
Your child does not eat a meal or snack. Just offer her healthy foods at the next planned meal or snack.
Your child wants to eat the same food for a few days.
Your child likes one food one day and refuses it the next day.
Children who help in the kitchen may be more likely to try and like more foods, plus they learn other skills, too. They learn basic math and science, new words and how to help clean up messes. Remind your child to wash her hands first. Be patient in the kitchen, and be sure to praise your child for her efforts. 
Try:
Have a color contest and see how many green, red, yellow, and orange fruits and vegetables you can include in one meal.
Cut foods into fun and easy shapes with cookie cutters.
Name a food your child helps create. Make a big deal of serving "Karla's Salad" or "Corey's Sweet Potatoes" for dinner.
Try a "Make Your Own" night. Let your family put together its own soft tacos, sandwiches, pizza, or salads.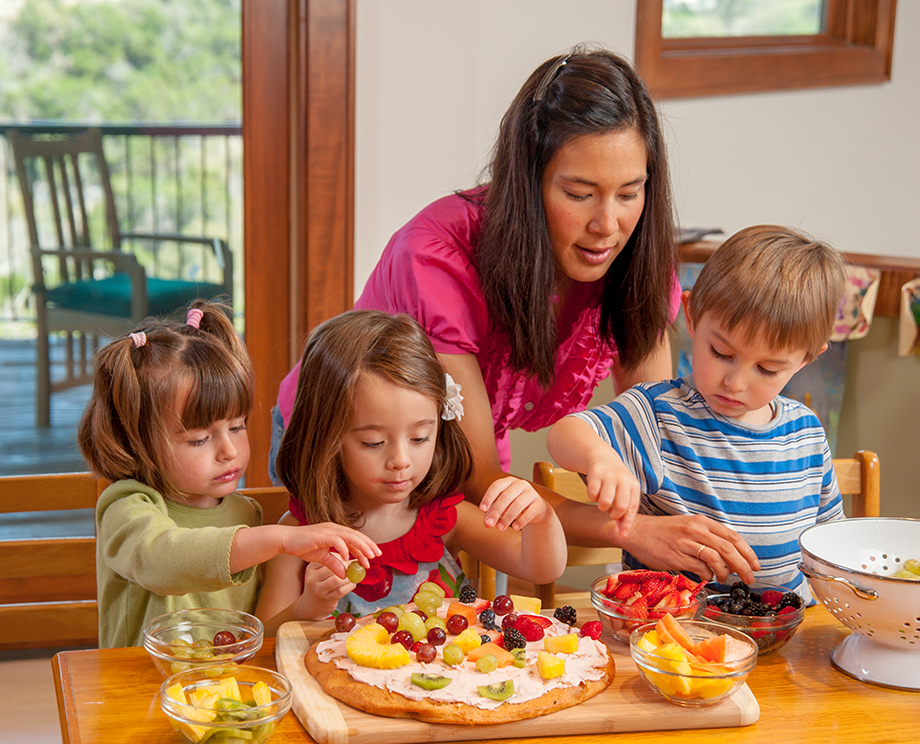 Drinks Can Fill Up Little Tummies
Water and milk are the best drink choices, and small amounts of 100% fruit or vegetable juice are fine, too. But fruit drinks, punch, sodas, sports drinks (like Gatorade®), and energy drinks have extra calories and added sugars that your child does not need.
Water:
Water provides the fluid your child's body needs without extra sugar, caffeine, calories, or cost.
Milk:
Milk is a good source of calcium, protein, vitamins A and D, and other nutrients. Make sure children don't fill up on milk and avoid other important foods. When children turn 2, switch to 1% (low-fat) or skim (fat-free) milk. Watch out for flavored milks, like chocolate or strawberry milk — they can have added sugar and calories.
Juice:
100 percent fruit or vegetable juice provides vitamin C. Too much juice can lead to weight gain, diarrhea, and tooth decay. Offer real fruits more often, these have more fiber than fruit juice.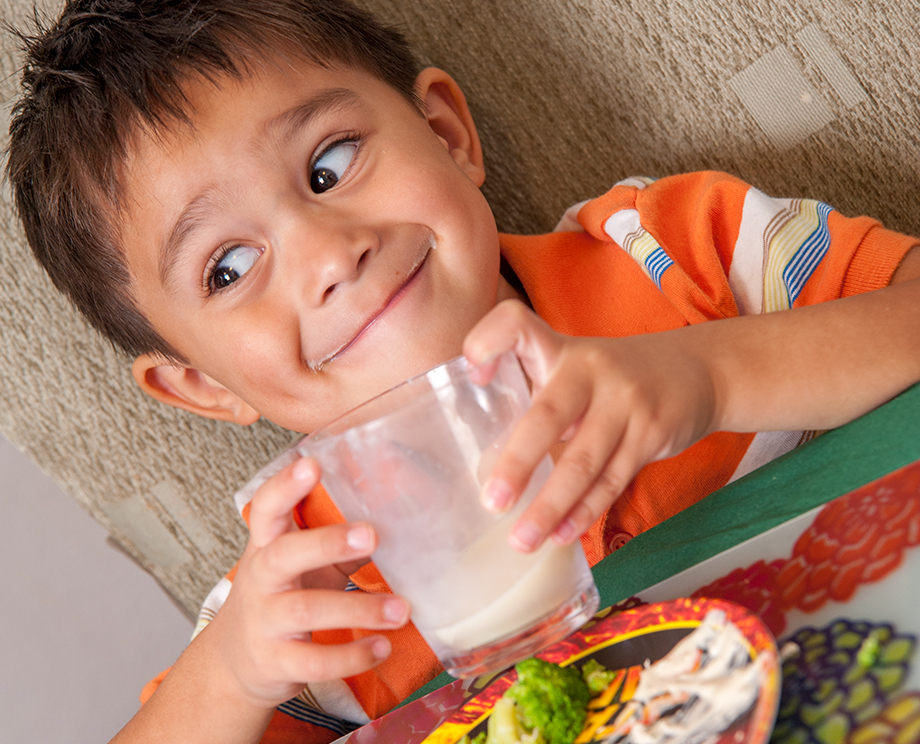 Some of the best childhood memories are made while playing at the park, riding a bike, or silly dancing. As parents, we all want our children to feel happy, strong and confident. Exercise helps with all of these, and it keeps us at a healthy weight with less stress. Being active throughout life can lower the risk of heart disease, high blood pressure, diabetes and more. Get the whole family involved in activities together. 
Children need at least 60 minutes of physical activity each day.
Try:
Plan family hikes, nature walks, and camping trips.
Teach kids to swim and bicycle at a young age, and make these routine activities.
Turn chores, such as raking leaves and gardening, into fun activities.
Make up fun races and obstacle courses in the park.
Think of ways to be active indoors: dancing to music, tossing balloons or soft balls, doing yoga and stretching, dancing with kids' music videos, etc.
Check to see what sort of recreational programs are available, such as swim lessons, community programs, and city park programs.