It can be hard to exercise when you are pregnant but staying active can help you feel better. Try to exercise a little each day. Doctors recommend pregnant women get 150 minutes of exercise a week. That works out to a little more than 20 minutes per day.
"Every bit helps," says Juliette Coronado, RD, Registered Dietitian at Texas WIC. "Even doing 10 minutes at a time is fine. Try taking short walks in the morning and evening, or have a dance party with your kids."
Be sure to talk to your doctor or healthcare provider before starting a new exercise routine. They can recommend activities that are safe for you and your baby.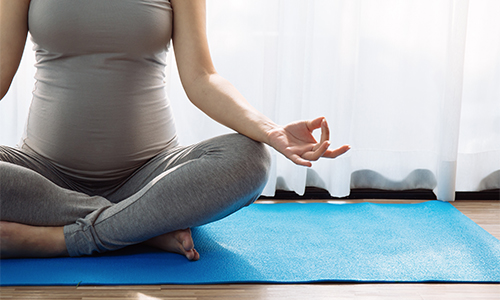 Exercise Makes You Feel Good
Staying active helps relieve stress — and it's good for you in lots of other ways. You'll have:
More Energy.
Right now, you might feel more tired than usual. A regular exercise routine will help you feel more energized.
An Easier Delivery.
Strong, fit moms have an easier time during long labors and pushing.
Less Aches and Pains.
Exercise can help your body feel better. Regular activity can also lower your risk of high blood pressure and diabetes during pregnancy.
A Better Night's Sleep.
Exercise can improve sleep during pregnancy. During this time, you need as much sleep as you can get.
Easier Post-Baby Weight Loss.
Having a regular activity routine will make losing weight after delivery easier. Now is the best time to get started.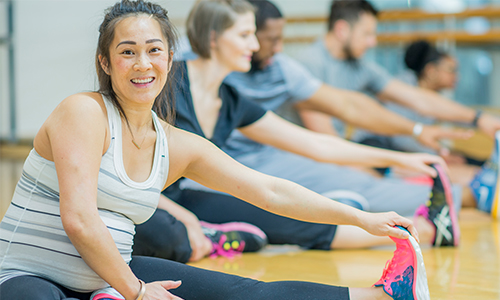 Five Ideas to Get Started
Walk it out!
Start by walking around your block or at the mall. Invite your partner and children to join you. As it gets easier, walk a little farther each time. If it's cold or yucky outside, walk inside while you watch

TV

.
Be a Fish.
Swimming feels great when you're pregnant because your body feels lighter in the water. Swim a few laps, use a kickboard or try a water aerobics class.
Find a Prenatal Yoga Class.
Ask your gym or local community center if they have a yoga class for pregnant moms. You'll not only get active — you might also make a few new friends.
Go video!
Look online for exercise videos for pregnant moms or check your library

DVD

s to be able to exercise on your preferred schedule and at no cost. Join us for Mom Fitness, a workout series designed for new moms. 
Take a Stretch Break.
Challenge yourself to stretch during all the commercial breaks on

TV

. This is one the whole family can do!
If you were already doing high-impact activities, such as jogging, before you got pregnant, way to go! It is fine to continue as long as your health care provider says it is okay. Avoid anything where you could be hit or kicked, such as basketball, kickboxing or soccer.